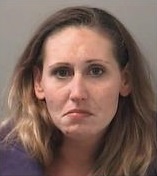 West Grey Police are looking for the public's help in locating a missing person. 34 year old Amanda Errin Linger who was last heard from on December 13th, 2022.
She is described as 5' 1" tall, 105 to 132 pounds, brown hair and blue eyes.
She was driving a blue 2015 Chevrolet Cruze 4 door sedan with license CSXS-322.
Police say she is involved in the drug sub-culture and may have been going to Barrie, Ottawa or New Brunswick.
If anyone has any information on her where abouts they are asked to contact the West Grey Police at 519-369-3046 or anonymously to Crime Stoppers at 1-800-222-TIPS.