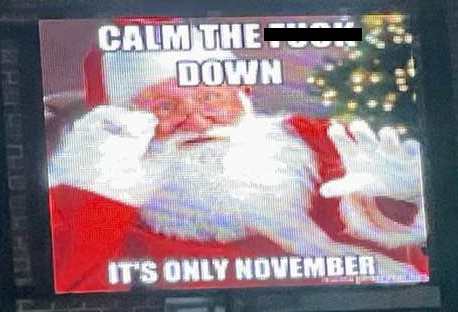 A local community Facebook group was up-in-a-fury yesterday over the posting on an electronic sign that was appearing in Downtown Listowel.
The business on Main Street East displayed a graphic of Santa with a comical statement that contained a swear word in the sentence.
The Ranch Newsroom reached out to the North Perth By-Law Enforcement Department, and they say it has been removed.
"Because it is actually a Municipally approved sign, because it is listing his business, it is under the approval for the Municipal sign that they cannot have vulgar language and stuff like that on it."
The sign owner, when reached at his cellphone says the image itself started on social media.
"I happened to have that meme up. I threw it up for less than 24 hours and of course by-law and everyone else was freaking out and all it was was a joke."
Anyone wishing to refer to the North Perth Sign By-Law can find it at the link below.
https://www.northperth.ca/en/business-and-development/resources/Documents/Sign-By-law.pdf